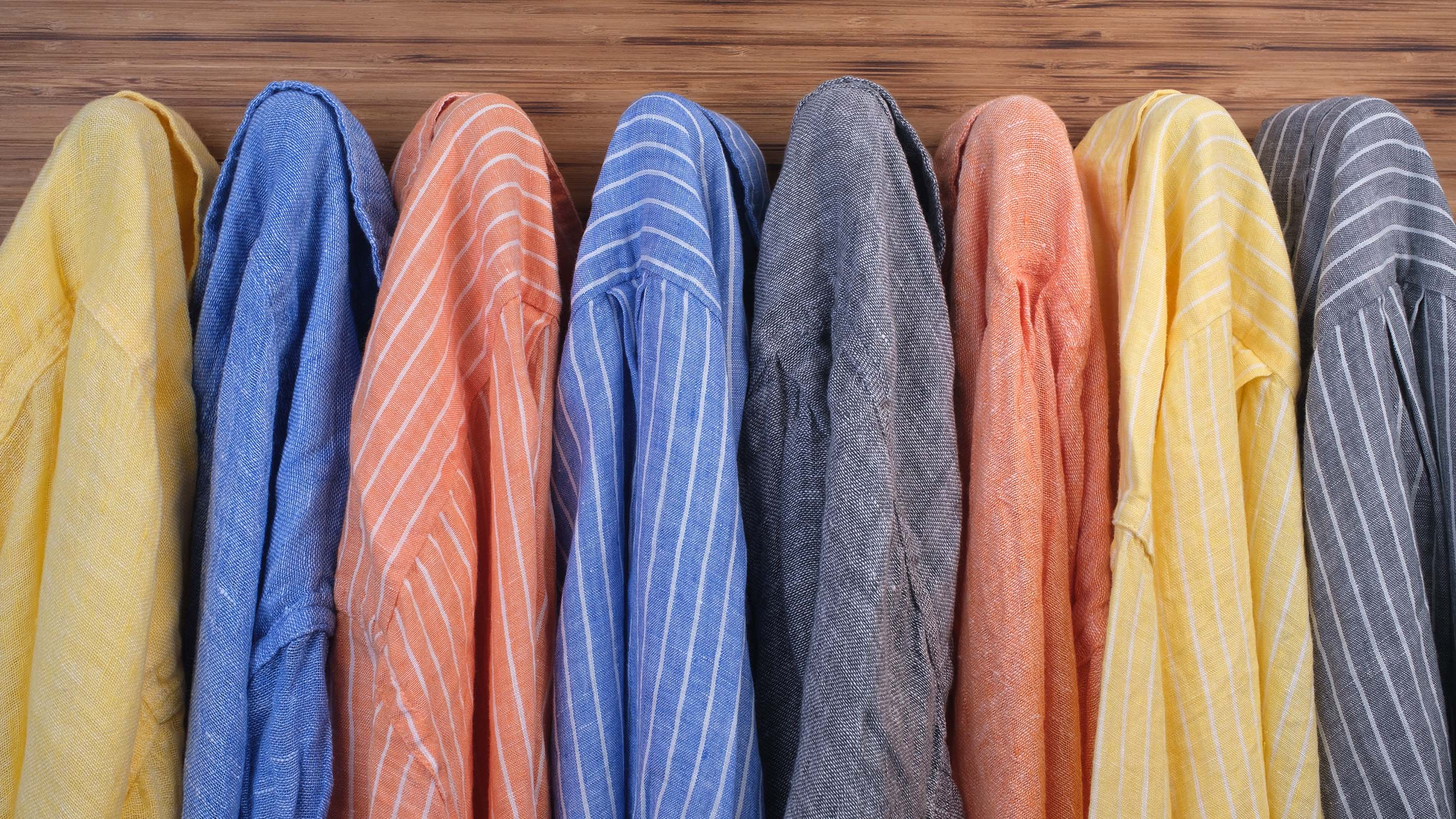 FLAX Barn Sale
The FLAX Barn Sale is a highly anticipated annual event featuring discounted FLAX linen clothing and a unique community experience.
September 2023 Barn / Tent Sale

Dates & Hours:
Saturday, 9/23: 9:00 AM - 5:00 PM
Sunday, 9/24: 10:00 AM - 3:00 PM

Location:
As you may have guessed, this sale will be outdoors, under tents at our Wampsville, NY headquarters.
FLAX Barn / Tent Sale
101 Madison St
Wampsville, NY 13163

Directions:
From the NYS Thruway:
Take Exit 34 NY-13 Canastota/Oneida.
At the end of the exit, please turn left onto NYS 13/North Peterboro Street.
After approximately .58 miles, take a left onto Canal Street.
In roughly 2.2 miles, at the light, turn right onto North Court Street.
Travel .42 miles and turn right onto Madison Street.
From NY-5 traveling East:
Follow Route 5 into Canastota.
Approximately 2.29 miles after the intersection at the Fast Trac, turn left at the light onto North Court Street.
In .56 miles, turn left onto Madison Street.
From NY-5 traveling West:
From the intersection of 365A and Route 5, travel just over 3.5 miles.
At the light, turn right onto North Court Street.
In .56 miles, turn left onto Madison Street.

Important Info:
While this sale shares similarities with our famous BARN SALE, it comes with some distinctive features you should be aware of:
Pricing:

Everything is a bargain! Yes, you read it right, all items are priced at just $25.

Organization:

The sale will be organized by size only.

Weather Preparedness:

We're hosting the sale rain or shine, sleet or snow.

Attire choices:

We love seeing you in your FLAX but must ask that you please refrain from wearing FLAX to the sale. We will have items in the sale from several years ago, so it will be very hard for us to tell if it a garment you previously purchased and unfortunately, you will be charged for it.

Dressing Rooms:

Please note that there will be no dressing room area.

Payment Options:

Payment will be accepted in cash or credit card only.

Tax Exempt Certificates:

Tax exempt certificates must be presented and left as a copy during checkout; otherwise, sales tax will be applied.

Gift with Purchase:

With a purchase of $200 or more, you'll receive a complimentary Barn Sale Bag (limit one per person).

Parking:

Parking space is limited and may be in a grassy field, so please consider carpooling if possible. The parking lot will open at 8:30 am on Saturday and 9:30 am on Sunday. Early arrivals are kindly discouraged.

Outdoor Sale in September:

Be prepared for the uncertainties that come with an outdoor sale in Upstate New York late in September. We have a small team, and this was the best way to offer you the in-person experience we've all been missing.
We sincerely appreciate your attendance and hope to see the same bright smiles, enthusiastic spirits, and grateful attitudes that have made past Barn Sales memorable, even if this one is a bit different. Thank you, and we look forward to welcoming you soon!
Worker Sign-Up
Worker sign-up in now full. Thanks to all who signed-up!

Shift Schedule:
Friday, 9/22: 9:00 AM - 3:00 PM
Saturday, 9/23: 8:30 AM - 5:30 PM
Sunday, 9/24: 9:30 AM - 4:00 PM
Since this is an outdoor event, come prepared for all types of weather—be it rain or shine, hot or cold.
What is the Barn Sale?
The FLAX Barn Sale is a highly anticipated annual event named after the dairy barn, affectionately known as 'The Barn', where FLAX was originally headquartered. This iconic building was converted into offices, warehouse space, and the hub of FLAX operations, and served as the heart of the company for many years. Today, FLAX is located in Wampsville, NY, but the FLAX Barn Sale continues to be a cherished tradition, offering customers a unique opportunity to purchase FLAX clothing at a discounted price.
FLAX is committed to maintaining the value of its brand and building strong relationships with its customers and boutique partners. The company prioritizes its relationship with smaller boutiques over large department stores or third-party retailers, and the FLAX Barn Sale is a testament to this commitment. At the event, customers can expect to find high-quality FLAX clothing made from sustainable and natural fibers, crafted with care and attention to detail.
Whether you are a longtime FLAX fan or discovering the brand for the first time, the FLAX Barn Sale is an opportunity to experience the best of FLAX clothing and culture. So don't miss the chance to join the FLAX community for a day filled with sustainable fashion, great deals, and memories that will last a lifetime.
Don't miss out on upcoming sales and exclusive offers from Flax Barn Sale. Subscribe to our email list to get all the latest updates.